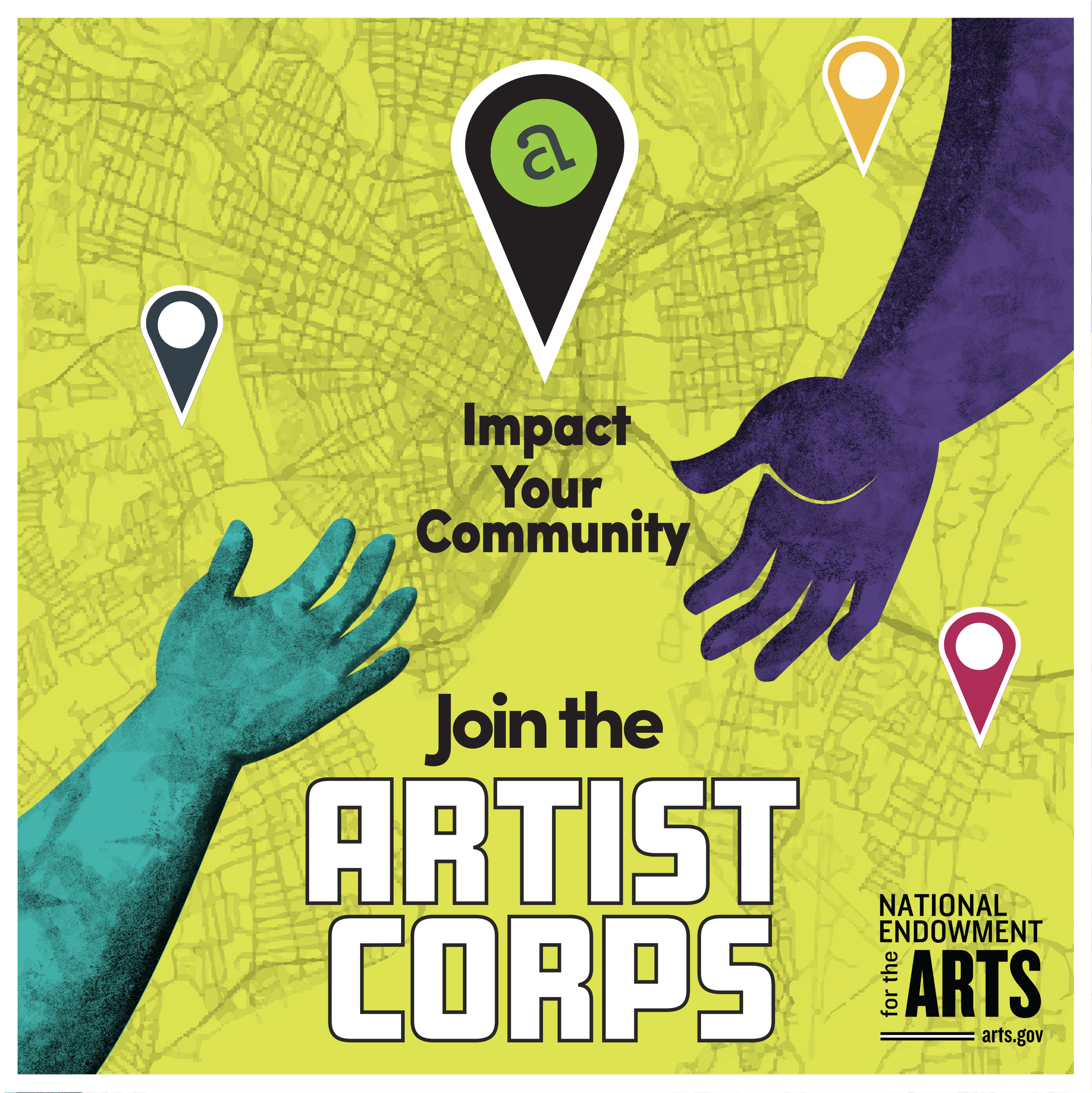 Thanks to funding from the American Rescue Plan grant from the National Endowment for the Arts (NEA) to help the arts and cultural sector recover from the pandemic, the Arts Council is launching our Artist Corps for individual artists in Greater New Haven.
Individual artists who are interested in creating projects and initiatives that directly impact the communities where they live can apply to be part of the first ever Artist Corps for Greater New Haven.
The Artist Corps is not just about receiving funding, it's about building non-cash resources (such as connecting people across networks, identifying pipeline opportunities, and meeting more residents through the arts) in order to create a solid foundation for artists to be operationally sound and successful in seeing their art at the forefront of the community. Therefore, selected artists will gather + work together as a cohort with support from our team of facilitators including: IfeMichelle Gardin, Frank Brady, and Annie Lin. The cohort will meet 3 times as a full group with many opportunities throughout the year to engage in small group workshops and collaborations to be in community with each other.
12 artists will be selected for this pilot year of the Artists Corps and will be awarded a stipend of $10,000. Artists are strongly encouraged to use a portion of this stipend to support artist(s) fees, both for themselves and any other artist(s) that are part of their proposed project.
ARTIST CORPS OUTCOMES
1. DEPTH NOT BREADTH
Highlighting artists where they live.
Enabling artists to complete projects in their communities that are deep, complete, + impactful.
Supporting projects that are free to the community.
2. SOLVING PROBLEMS WHERE YOU LIVE
Helping community through art.
How can art open up solutions to problems in the community?
3. SHARING RESOURCES + CREATING CONNECTION
Helping artists see the whole picture, creating the ability to visualize what is needed to get projects done.
Bridging relationships to create collaborations that build upon the creative ecosystem and put artists at the forefront of the community.
4. LONGEVITY
This is not about creating a one-off program, but building a framework for an Artist Corps that will continue past this initial year.
Once individuals go through the Artist Corps program they have the ability to become a facilitator for the next cohort of artists.
MEET OUR FACILITATORS
Our Facilitators have helped mold our Artist Corps framework. They will review all applications and select artists to be part of the Artist Corps. In addition, they will help facilitate the Artist Corps cohort, make new connections to networks across the region, and center the cohort culture as artists get their projects done!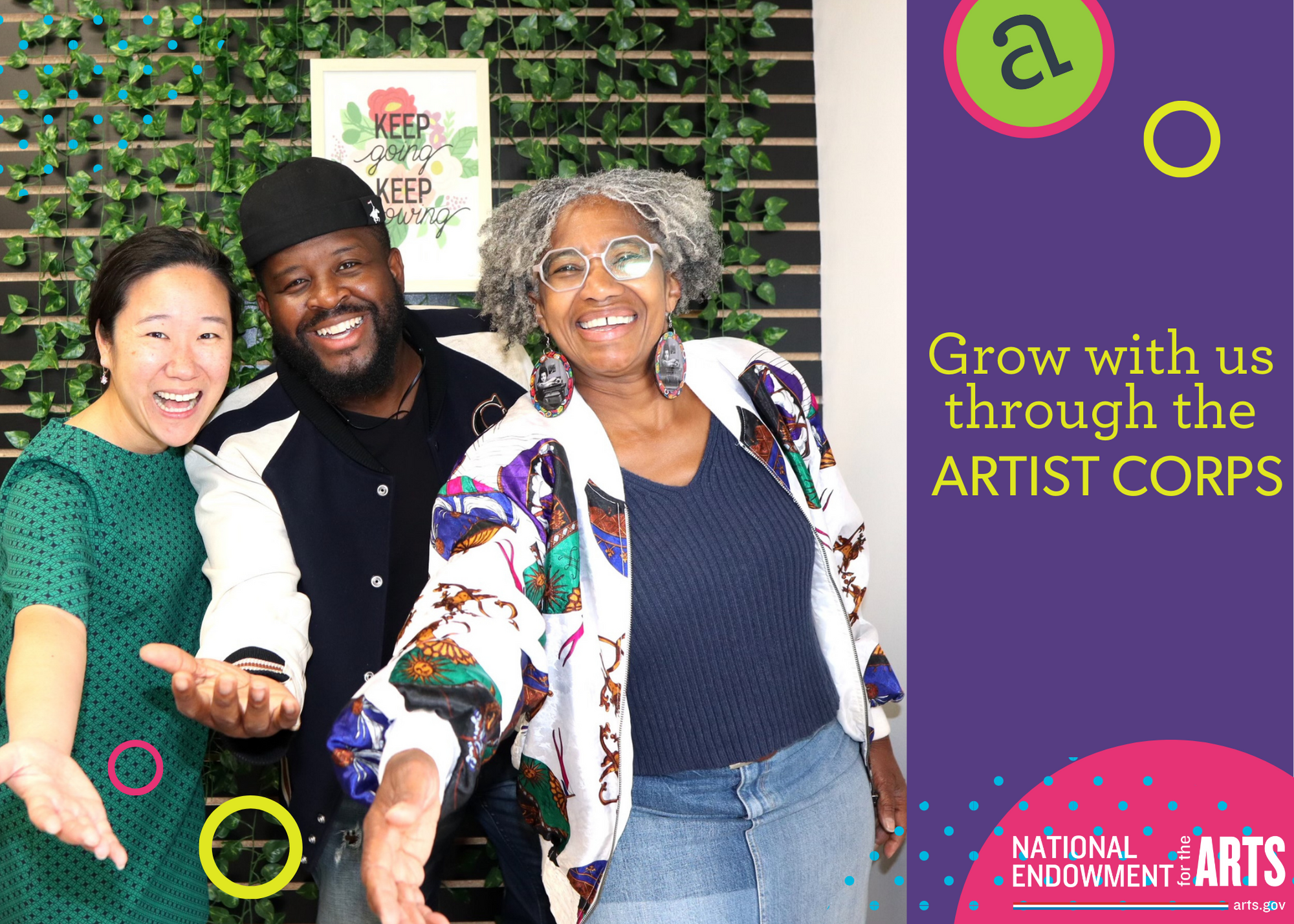 Annie Lin (she/her) (left) loves to be around artmaking and artmakers. She is the daughter of immigrants from Taiwan and a transplant to New Haven 10 years ago. Annie explores the intersection of creativity and community through her current position as the arts program director at Yale-China and as an avid board member of the International Festival of Arts & Ideas and New Haven Symphony Orchestra. Annie is excited to work with Ife and Frank and to learn alongside the first Artist Corps.
Frank E. Brady (middle) is an Award-Winning Poet, Educational Consultant & Mental Health Advocate. He has appeared on BET, Soultrain.com, The Source Hip-Hop Magazine, and recently, ABC Networks. Frank has an undying dedication to youth development. He is a former High School Teacher with a love for Literacy & Social-Emotional Development. Frank is the Co-Author of Suited For Success, 25 stories of life lessons & overcoming adversity.
Recent accomplishments include being nominated for Youth Speaker of the Year and being named Black Enterprise's Modern Man of the Year. From Forbes to Yale University & INROADS, he conducts workshops on personal and cultural development as a specialist in forming human connections for Public Education, Corporations & Non-Profit Organizations.
IfeMichelle Gardin (she/her) (right) has worked as a Community Liaison and Program Coordinator for the Shubert Theater, Long Wharf Theater, The Arts Council of Greater New Haven, The International Festival of Arts & Ideas, and Yale Drama School. IfeMichelle has also worked in Social Services at the Community Action Agency, Youth Continuum, and AIDS Interfaith Network.
Her combined experiences in Arts, Culture, and Social Services have fueled her passion for her commitment to cultivating Cultural Awareness and the quality of life throughout the region for over a decade.
IfeMichelle is the Founder/Creator of KulturallyLIT/Elm City LITFest, a celebration of the Arts of the African Diaspora.
WHAT THIS IS NOT
Not just about giving out money - it's an Artist Corps and you will be working as a community + working in community.
A sponsorship opportunity to bundle with other funding you receive.
ELIGIBILITY
Individual artists living in the Greater New Haven region (Bethany | Branford | Cheshire | East Haven | Guilford | Hamden | Madison | Meriden | Milford | New Haven | North Branford | North Haven | Orange | Wallingford | West Haven | Woodbridge)
Your project must be doable within the timeframe + budget as well as being free + accessible to the public.
Your project must take place in the town where you live.
WHAT DO WE MEAN BY ARTIST?
We take a very broad lens when it comes to our definition of an individual artist.
An artist, culture bearer, or culture maker ('artist') is someone who regularly engages in artistic or cultural practice to: express themselves with the intention of communicating richly to or sharing with others; pass on traditional knowledge and cultural practices; offer cultural resources to their communities; and/or co-organize and co-create within communities toward social impacts. Artists aspire to sustain themselves through their practice and maintain a commitment to continuing their practice. Artists can work both individually and collaboratively, or as educators within their field of practice.
Artistic and creative practice includes: Craft, Culinary Arts, Dance, Design, Film, Literary Arts, Media Arts, Music, Oral Traditions, Social Practice, Theater, Performance Art, Traditional Arts, Visual Arts, and Interdisciplinary Arts.
ALLOWABLE COSTS
Artist fees (your fee or any other artists you work with on the project)
Supplies directly related to your project
Marketing and promotion of your project
COSTS NOT ALLOWED
Anything not mentioned above including but not limited to: rent or food assistance to individuals, alcoholic beverages, for-profit activities or enterprises, construction, fundraising, land purchase, lobbying, public appeals, mortgage interest, parties/galas, travel costs, and more.
If you have a question about a cost and if it is allowed/not allowed, please contact Megan via Megan@NewHavenArts.org.
REVIEW CRITERIA
Applications will be reviewed using the following criteria
Community Impact: How will your project benefit the community where you live?
Project Feasibility: Is this project possible in the timeframe of the grant periods and within the budget allocated?
Accessibility: How accessible will this project be for the public?
TIMELINE
June 9, 2022 – Application Launch
July 15, 2022 - Deadline for applications
July 16 - Aug 31, 2022 - Committee Review
September 2022 - Public announcement
October 1, 2022 - September 30, 2023 - Artist Corps Performance Period
October 31, 2023 - Final Reports Due
Need help or have a question? Contact Megan Manton via Megan@NewHavenArts.org | 203-772-2788.
This application should take an estimated 30 minutes to complete.
Special thanks to Gabrielle Fludd for designing our Artists Corps Logo!